Business Intelligence System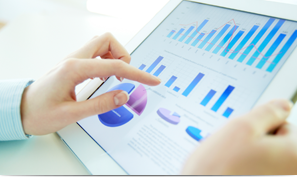 Business Intelligence solutions help organizations of all sizes thrive by enabling them to discover new ways to strategize, plan, optimize business operations, and capture new market opportunities. Business Analytics software deliver the most complete and integrated solutions that let customers gain insight into every aspect of their business, plan ahead, and act with confidence-anytime, anywhere, on any device. 
Evolve your IT into a role of business enabler by standardizing on a single, scalable business intelligence (BI) platform that connects people with information –anytime, on any device—and accelerates decision making. Oracle BI tools and technology provide a broad set of capabilities for reporting, analysis, modeling, forecasting and it is the only solution that makes BI actionable by providing business users the ability to initiate actions directly from their dashboards.
Accelerate business innovation by drastically reducing the time it takes to deploy BI solutions. ISVO BI Applications are preconfigured for a variety of data sources. These solutions enable organizations to extend the value of their existing IT investments with intuitive, role-based intelligence and power better decisions. They support business functions and industry-specific processes with best-practice analytics.
General Features Only on ISVO BI:
1) A Common Enterprise Information Model that enables user self-service and ensures consistent, accurate information by allowing you to model once and deploy anywhere.
 
2) The most complete range Business Intelligence tools and technologies, including best in class products for query and analysis, enterprise reporting, dashboards, and scorecards, built on an open, highly scalable, architecturally unified technology foundation.
 
3) The market -leading OLAP server that enables rapid modeling of alternative scenarios and streamlines the management reporting, forecasting, and variance analysis process.
 
4) A real-time decision solution that increases customer satisfaction and profitability by optimizing customer experiences at the point of interaction.