Enterprise Resource Planning System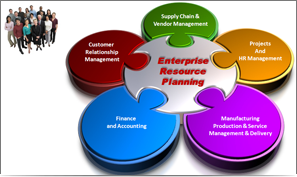 The System consists the management of various applications that generally maneuvers the business operations with different departmental functions. It simplifies all aspects in the business operation that covers in its scope the service and/or product overview and planning, its progress and their established process as well as their marketing options. The system affords the monitoring process in all areas of the business from the available cash flow, logistics, operational capacity in relation to product orders as well as the associated purchase orders and the payroll process of the staff. The system will be centralized and shared all across the Company with which the data are needed, both internal and external.
The System's different modules consisted of Purchasing, Sales, Inventory and Accounting.
For purchasing, the system will have a table of Suppliers and their ledger/s and their respective transactions with the Customers plus the necessary forms that are being regularly used in their regular business such purchasing requisition, stock inclusion request, request for quotation, purchase order or return forms and debit and credit memo.
Under Sales, it can be tracked therein a list of buyers with their corresponding contracts that includes rates and fees and the agreed currency. It will similarly monitor ledger transactions such as confirmations and invoices, debit and credit memo and payment.
As for Inventory, an efficient and accurate inventory items and classifications and warehouse processes such as receiving, stock issuance, transfer or adjustments, damages and/or return of items. It's maintaining both Inventory and Serial Ledgers.
In the accounting module, there may be several options consisting of different accounting groups and period with Chart of different Accounts and Depository Banks with available worksheets for different forms of vouchers including accounts payable and journal vouchers, liquidation and check vouchers and bank liquidation options with GL/SL ledgers. Any necessary reports in each transaction or group of transactions may be generated at any time.